Dear Steve,
I would like to thank you and your team for doing an outstanding job in our engineered stenotic valve project.
At the beginning of this project we did not know how much of what we aim for can be achieved, or even if it can be achieved at all. Still, not only did you achieve it, you also did it on a very short schedule.
Specifically I would like to note Roni's professionalism and dedication; Roni had an invaluable contribution to the success of this project and was a pleasure to work with.
Having a reliable bench model that can simulate the mechanical properties of a stenotic valve is very significant for our ability to evaluate our device.
We appreciate your resilience and hard work and looking forward to our next collaboration.
Thank you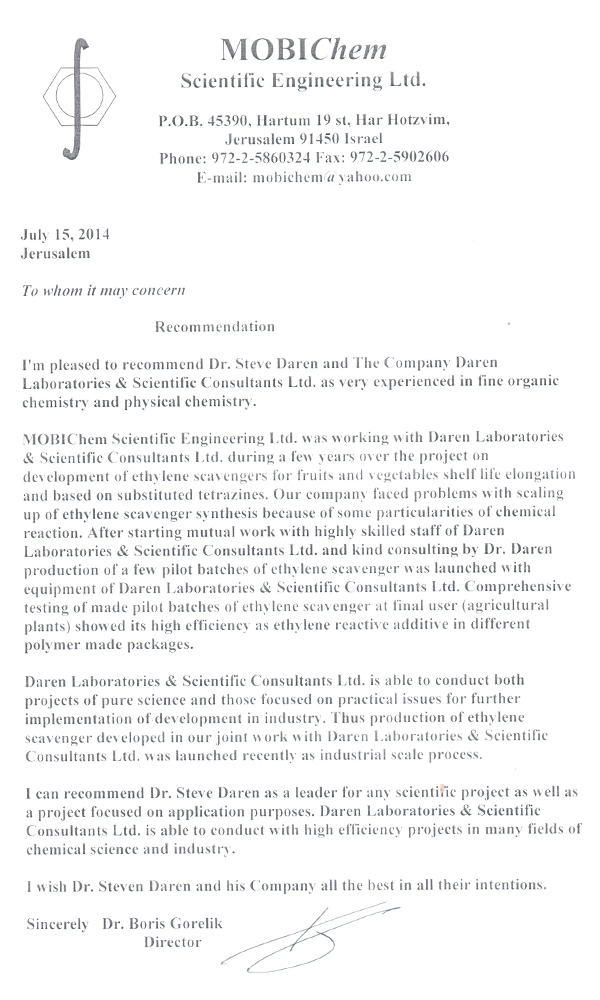 ---
Galmed Medical Research Ltd . (NASDAQ)
I have cooperated with the Daren Laboratories for over 11 years. I came to them first with a request to synthesize new previously unknown organic molecules for which there was no established method of synthesis .After they performed this task well, rapidly and discreetly, i came back to them with requests for other and different molecules. The work was always performed to our satisfaction, rapidly and at reasonable costs. I also consulted Steve not infrequently on various difficult, chemical and other problems and always received valuable advice willingly given. Based on this rather extended period of cooperation I can recommend the laboratory and Steve personally highly.
The lab is efficient, proficient and delivers a good product I can recommend them highly.
Tuvia Gilat MD
Professor Emmeritus of Medicine
CEO and CSO of Galmed Medical Research Ltd Tel -Aviv Israel.
---
ACHVA  ( Since  1929 )
Definition of Parameters for Storage Stability of  Halva Products.
During negotiations with a huge institution on the provision of halva products, the institution insisted that they check the storage stability of our products by accelerated ageing in an oven.
Our products failed to pass the first test and the deal was in doubt. I asked Dr. Steve Daren to accompany me to the decisive meeting with the technical staff from the institution. 
Dr. Daren immediately grasped the situation, pointed out the errors in the tests performed and requested a new set of tests with conditions defined by him. Fortunately the technical staff accepted Dr. Daren's modifications and changed the way in which the tests were conducted. Under the new set of conditions our products met all of the institution's requirements.
Subsequently the deal was concluded and has continued since then to the satisfaction of all concerned.
I thank Steve for his assistance in closing the deal,
Yours Sincerely,
Mr. Jacob Malach,
General Manager
---
El-OP
Dear Steve, Faina and Vlada,
I would like to thank you for the great work you have done for us. This is not the first time that we are working together, and as usual it was very pleasant to work with you. Our customer was very surprised by the excellent results (better then he asked) and the fast response. I was very impressed by the creativity you demonstrate at this work. I am sure that we will work together again in the future.
Galit Zilberman
Material Eng.
El-Op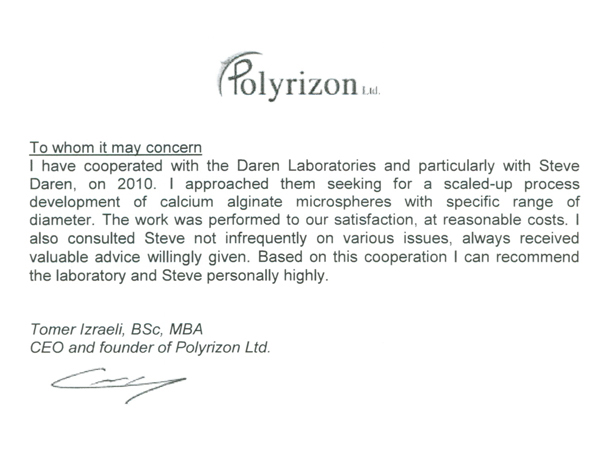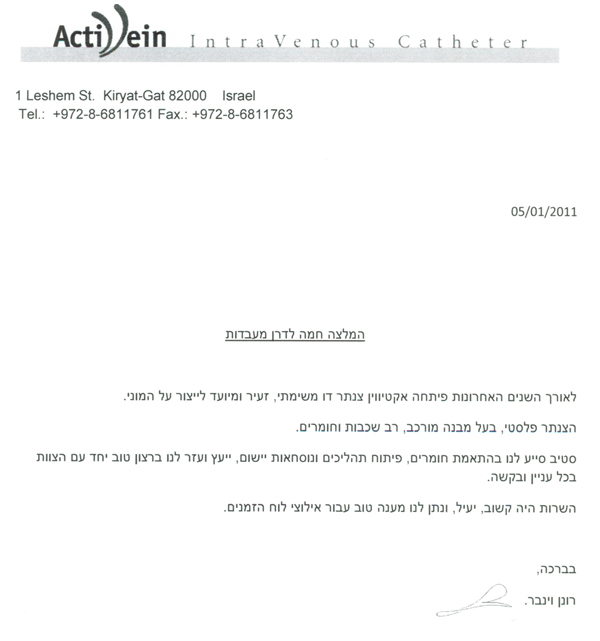 ---
Dr. Steve Daren - Daren laboratories Ltd. 
By Dr. Assaf Cohen
Dear Steve
I wanted to share with you and to thank you, the potential components analysis document you have prepared for us made
Our work more efficient and more focused.
After we passed the points that you elite at your system analysis, we removed certain materials from
Our Possibilities and however we have assembled the action around the materials or substances you recommended.
Bottom line work has become more efficient and focused.
Thank you for the detailed investment and to meet deadlines.
Asaf. 
---
En Gibton Ltd.
Our work with Dr. Steve Daren  started in 2007, when we needed to scale up the production of our micelle-clay complex from a laboratory production to a semi-industrial scale, which was needed for constructing a pilot filter for purification of water from perchlorate. The laboratory of Steve was well equipped and shining clean. He grasped the problems immediately and gave us useful suggestions which he carried out in his laboratory. Consequently we could avoid a long process of centrifugation by a combination of decantation and a use of a Buchner funnel, and have our complex produced on time. During our encounter we were impressed with the knowledge of Steve in the area of Applied Chemistry and the accurate and prompt execution, which also projected motivation and enthusiasm to his coworkers and employees. Our encounter with Dr Steve Daren enabled us to widen our scope and helped us significantly in succeeding with our pilot.
Later on we utilized the knowledge, experience and creativity of Steve in another area. He succeeded to develop a promising process of synthesizing our surfactant. His scheme when carried out on an industrial scale will reduce the price of the surfactant , which we employ by about 40%, which can make our water purification economically appealing and relieve us from being dependent on external sources.
Sincerely,
Dr. Shlomo Nir, Professor emeritus
Hebrew University of Jerusalem
Faculty of Agric., Food & Environ. Sci.,
And CTO , EnGibton Company
 
---
TeliWare Ltd.
 
Dear Dr. Steve Daren,
We want to thank you for your dedicated work done recently at February-March, 2011.
The process for the production of buttons containing magnetite nanoparticles was not easy; however progress has been achieved thanks to you and thanks to Ms. Vlada and Mr. Pablo.
During the process we encountered various problems such as: after the photopolymerization  (first stage) the expected precipitate of the nanoparticles did not appear after centrifugation, replacing the chloroform with methyl methacrylate monomer by distillations in the second stage, and the precipitate of the magnetite nanoparticles in MMA. To all those problems you gave us recommendations on how to solve them. According to the obtained results including more homogeneous buttons in concentration of 1%, we look forward working with you in order to improve the homogeneity of the buttons in more concentrated samples. Thank you for all your efforts.
Sincerely,
TeliWare Team
---
BaRi Food
To whom it may concern.   
The infrastructure and technical assistance that I found at Daren Laboratory enabled me to carry out initial proof-of-concept studies in a Tnufa funded project.  The management at Daren was open to hearing about my needs.  It was forthcoming and flexible enough to enable me to work on a different basis at different stages of the project.  The atmosphere at Daren's is very supportive and friendly, to the point that management was able to offer the use of equipment belonging to other groups presently being hosted at Daren's. In summary, I very warmly recommend Daren Laboratory and the facilities they offer.
Best,
Naomi B. Zak, Ph.D